Why do dogs go crazy for peanut butter? Some say the smell of the roasted nuts is similar to caramelized meat. Dog's sensitive sense of smell is tuned to seek out nutritious foods. Or perhaps it just tastes great! Either way, peanut butter contains easy to digest protein that is always a favorite. Be sure to use peanut butter WITHOUT xylitol – a common artificial sweetener that is toxic to dogs. Natural peanut butter with no added salt is a safe bet. These treats are also great for older dogs that may have trouble chewing tougher or hard treats.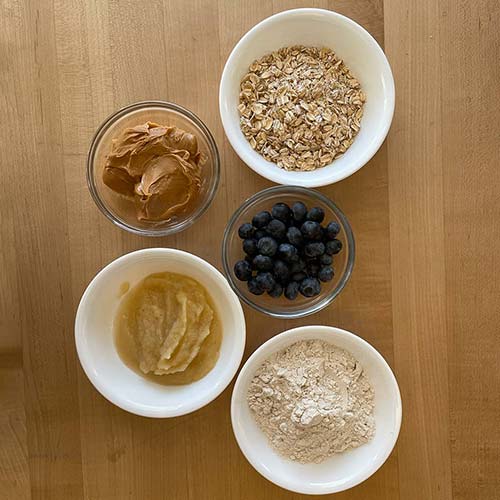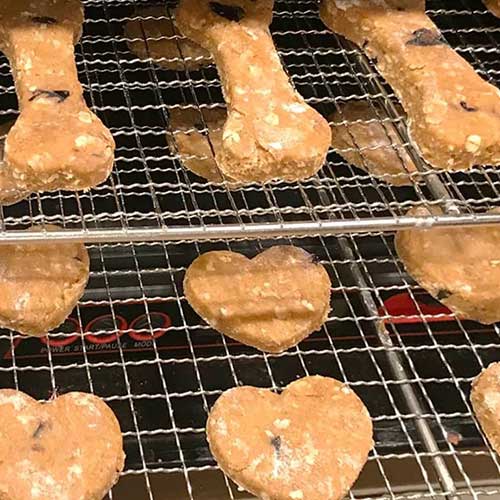 Ingredients:

225 g peanut butter – Natural with NO XYLITOL
225 g apple sauce – UNSWEETENED
225 g whole wheat flour
115 g blueberries
120 g rolled oats – quick cook

Instructions:

Combine all ingredients in a large bowl. Mix by hand until all ingredients are thoroughly blended.
Turn the mixture out onto a lightly floured cutting board or counter and press flat with your hands. Better still roll with a rolling pin. Flatten to approximately 0,5 cm thick. Use your favorite cookie cutters or a knife to cut shapes and transfer to dehydrator racks. Gather up the remaining mixture and re-roll or just make rounds as described below.
Roll small balls and press them flat with your hand about 0,5 cm thick. Your dog will still love them even if they are not so pretty.
Dehydrate for approximately 7 hours at 74 C. Check drying progress after 5 hours. You want the treats to be dry but still spongey.