This super simple recipe creates a flavorful and tasty snack that is packed with nutrition. High levels of omega-3 fatty acids contribute to healthy skin and smooth silky coat. Some experts have concerns about feeding tuna to dogs, mainly because of the risk of mercury. A couple of tips to help avoid issues: use tuna treats in moderation, always use FULLY COOKED tuna (canned tuna is always fully cooked), choose albacore or skipjack tuna (these fish are smaller and likely to have lower mercury levels compared to larger species such as yellowfin or bluefin), and importantly feed tuna treats only to adult dogs over one year old – not puppies.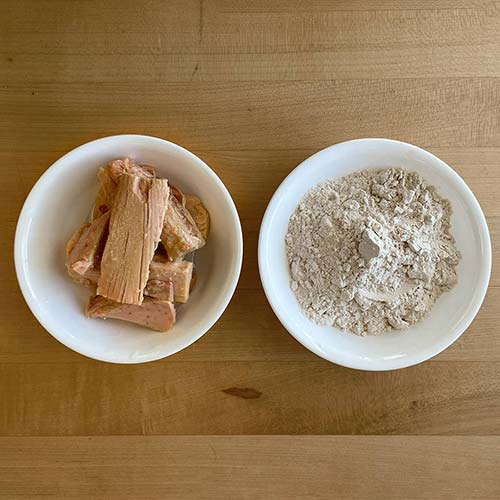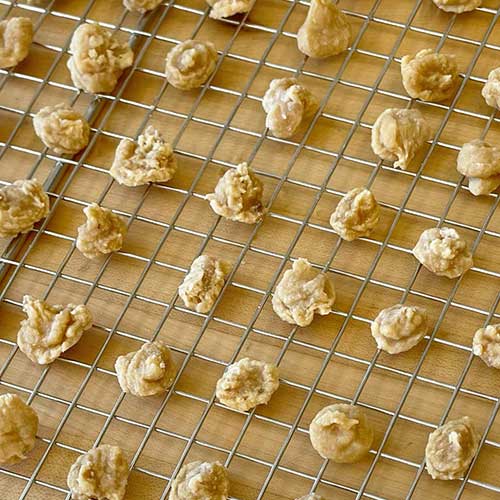 Ingredients:

1 large can tuna (albacore or skipjack in packed in water)

90 g whole wheat flour

Instructions:

Add tuna and flour to food processor. Pulse to combine. Add water (one teaspoon at a time) and continue to pulse until mixture forms a stiff paste.

Transfer tuna mixture to a pastry or ordinary plastic bag. Nip a small corner off the bag with scissors.

Place a Brod & Taylor silicone sheet (or parchment paper) on a dehydrator rack. Squeeze mixture out of the bag by hand to make small rounds on the silicone sheet.

Dehydrate for approximately 3 hours at 74 C. Oils in the tuna will keep the treats slightly soft.

Store in the refrigerator to keep fresh.