Cheese is another food that most dogs crave, but it is best in small doses. This recipe combines cheese with whole grains, veggies and fruit for a more wholesome snack. Some adult dogs can be lactose intolerant so dairy may upset their GI system, and more rarely dogs can be allergic to dairy. But most pets will gobble these up with delight.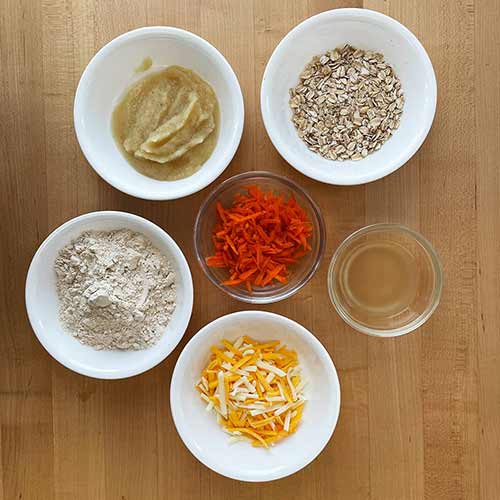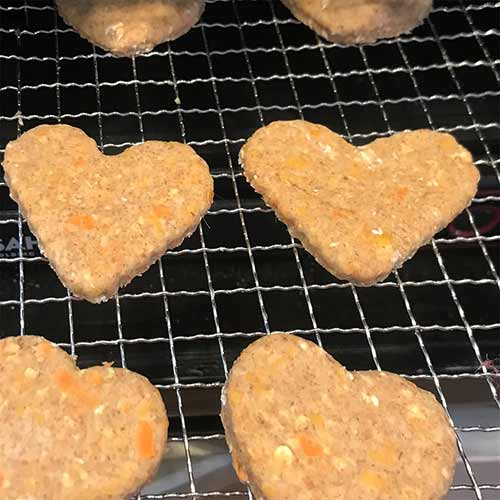 Ingredients:

60 g whole wheat flour
115 g rolled oats – quick cook
170 g shredded cheese – mild cheddar or similar
115 g apple sauce – unsweetened
3 T chicken broth or water
115 g shredded carrots

Instructions:

Combine all ingredients in a large bowl. Mix by hand until all ingredients are thoroughly blended.
Turn the mixture out onto a lightly floured cutting board or counter and press flat with your hands. Better still roll with a rolling pin. Flatten to approximately 0,5 cm thick. Use your favorite cookie cutters or a knife to cut shapes and transfer to dehydrator racks. Gather up the remaining mixture and re-roll or just make rounds as described below.
Roll small balls and press them flat with your hand about 0,5 cm thick.
Dehydrate for approximately 6-8 hours or until desired hardness.